Providing a safe drinking-water is still one of the major concerns in most of developing countries. Water purification methods exist, but they are expensive and therefore, not easily accessible for many people. In ancient time, people in India believe that drinking water stored in a copper vessel gives benefits for your health. According to the Hindu traditional medicine, Ayuverda, copper is believed to possess anti-microbial, antioxidant, anti-carcinogenic and anti-inflammatory properties. Thus, making it perfectly fit for the drinking purpose. But is there any scientific evidence that support this believe? Let us find out.
A recent study (2012) has evaluated the effect of copper vessel on a contaminated drinking water by storing it in a copper vessel for 16 hours. The result  was satisfying and showed that copper vessel can be use as a cheaper solution for especially developing countries to have a more easy access to drinking-water. One of the best part about this material is that it never becomes stale and can store water for long periods of time.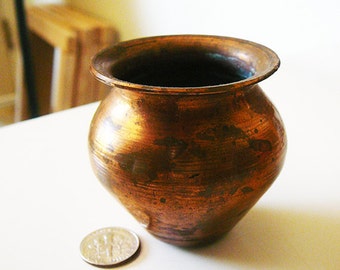 The benefit of copper doesn't stop here ! Copper is an essential nutrient for our body and have diverse roles in biological electron and oxygen transportation. It can be found in several food such as beef, oyster, lobster, cocoa, black pepper, nuts, sunflower seeds, avocados, etc. Taking water stored in a copper vessel can help you to supply your daily requirement of copper.
If you're interested in getting this copper vessel, Shanghai Metal Corporation produces slitting, edging, and oscillate winding to fit your specific copper requirements. To find out more, please check out our website or send us your inquiry. We have English speaking staff that will guide you to find your wanted product with the best quality and price. Don't forget to follow us on Social Media to get news about our product and company.
Ayu P.//SMC editor